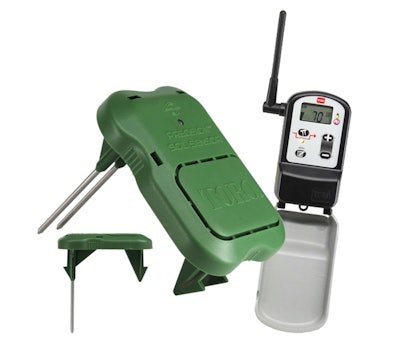 Toro's Precision Soil Sensor was named winner of the 2012 Irrigation Association (IA) New Product Contest in the Turf/Landscape category at the IA Show in Orlando.
Launched in early 2012, the product has already received three other national innovation awards.
The Precision Soil Sensor can install on almost any irrigation controller, and it continuously measures moisture levels in the soil to determine when to allow the controller to water. The sensor is wireless up to 500 feet (line of sight) and requires no digging for installation.
Researchers at New Mexico State University are currently conducting a two-year study to compare the amount of irrigation water used by a sprinkler system using a Toro Precision Soil Sensor versus systems scheduled using a fixed runtime based on Max ET.
Toro also unveiled at the 2012 IA Show their new EvolutionTM series irrigation controller, which is slated for launch in early 2013. This new residential/light-commercial controller will work with up to three Precision Soil Sensor probes (one per schedule), as well as a number of other optional accessories.