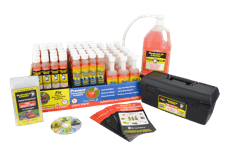 B3C Fuel Solutions has partnered with Roy Gripske & Sons, the Australian distributor for Bushranger, Maruyama, Craftsman and Hustler Commercial Outdoor Power Equipment.
GA Power Equipment Spares, a division of Roy Gripske & Sons, specializes in the wholesale distribution of replacement spare parts for the outdoor power equipment Industry with a comprehensive range of more than 15,000 products including Oregon, Walbro, Desert Extrusion and Kawasaki stationary engines.
With this partnership, GA Power Equipment Spares will operate as a distributor of B3C Fuel Solution's core products, Mechanic In A Bottle and Ethanol Shield.
As a distributor, GA Equipment Spares will leverage B3C's Authorized Dealer Kits to work with Australian Outdoor Power Equipment dealers to educate consumers about the problems with today's modern fuels, repair equipment in repair shops and sell retail products to consumers.
"In Australia, we experience the same problems with ethanol-blended fuels and bio-fuels that consumers face in the United States," says Ben Gripske, national sales manager, Roy Gripske & Sons.