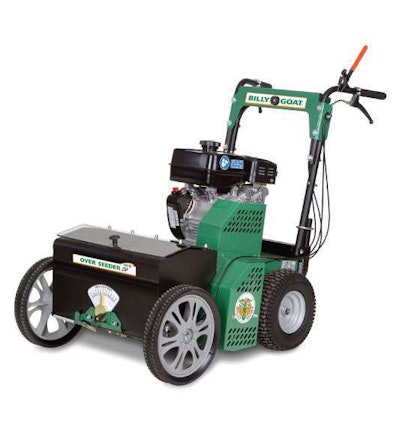 Billy Goat Industry's newly enhanced OS901SPS includes a new blade design that reduces thatch and improves blade life due to its sharpened leading edge and attack angle. They are combined with a new foot actuated height adjust that raises and lowers the reel and provides more blade depth.
The Billy Goat OS901SPS is hydrostatically self-propelled and features intuitive right and left operator drive controls.
The unit is 22 inches wide with a 11-blade "floating head" cutting system that maintains contact with the contours of uneven ground, increasing seed-to-soil contact and improving germination rates.
An Auto Drop system automatically starts and stops seed drop with bale engagement and disengagement, conserving seed and preventing end-of-run seed piling. The unit comes standard with a 30-pound seed box with excellent visibility from the operator's position and is generously elevated above the turf to eliminate clogging.
Conversion kits are available to retro-fit the OS900SPS series with the new enhancements.