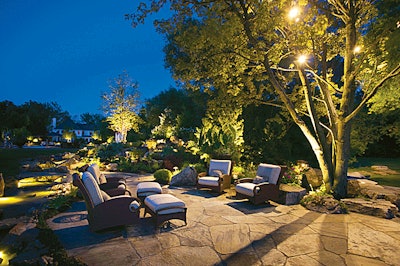 Our Landscapers of the Year used their business savvy and love of landscaping to create a thriving company.
When sisters Nancy Marshall and Becky Whitacre grew up working for their parents' landscaping business, making a mistake was not an option, and the word "can't" was not acceptable.
Recalling their father, Walter Small, fondly, Marshall explains, "Dad was our teacher. He taught us and then he made us do it by ourselves – or sometimes even learn on our own."
Marshall remembers learning to operate heavy equipment at the ripe age of 8 years old. "It was scary, but we had to learn," Marshall says. "It wasn't like you had an option."
Marshall says she didn't realize it at the time, but her father was trying to instill in the family that work had be done right the first time or it had to be redone: correctly.
This quest for perfection has stuck with the sisters and how they operate their business, Smalls Landscaping in Valparaiso, Indiana, which is certified as a "Woman-Owned Business" through the Women's Business Enterprise National Council (WBENC).
Setting out on their own
Whitacre was up against the odds when it came to her college career in landscaping. Not quite sure what to expect, she embraced it and took on the landscape nursery program at Michigan State as a challenge.
Whitacre was the only female in her class and just the second female to go through the rigorous program and not quit. "It was really a reality check," she notes. "You're sitting in class, and it hits you: 'I better study.' But I also realized I loved the program, so I worked hard."
This perseverance has been integral to the success of the sisters' business, says Marshall, who attended a local business school for accounting.
The family business continued to expand when a couple hundred acres were purchased in 1972 and a nursery was planted. In 1997, the year Walter Small died, the family opened a retail gift store. The business grew to include a wholesale and retail garden center; a nursery; a gift store that sold an eclectic mix of antiques, furniture, art and even crystal; and the mainstay, the landscaping business.
In April 2000, the sisters decided to venture out on their own and moved into a new facility in Valparaiso, Indiana. Despite all of these challenges, the principles their father instilled in them helped the two to surge ahead without any regrets. They pared down their business to just landscaping – no garden center or wholesale.
"Landscaping is our passion," Marshall says. "We started here with just the intention of doing landscaping. It's what we do best."
Their list of services includes landscaping, hardscaping, maintenance, waterscaping, custom containers, irrigation, outdoor kitchens and seasonal décor.
A palette of plants
To further hone what they do best, Whitacre and Marshall have developed specialty crews, including ones for landscaping, hardscaping, maintenance and irrigation. "When we are designing a job, we think in terms of what the crew can do," Marshall says. "We actually figure out how many days we'll need with each crew's work. The crews know what they are doing, so we don't have to reinvent the process. It is unbelievable how much work they can push out in a day."
At Smalls Landscaping, Marshall and Whitacre pride themselves on being different. Clients won't see the common burning bushes or lilacs. "There is no 'cookie cutter' landscaping," Marshall says. "We have some unusual and odd plants, such as dwarf conifers. You know our landscaping the minute you drive by it. Each project is tailored to the client's taste."
The clients are guided through a process where they look through books and discuss preferences including colors, shapes and smells. Clients are recommended to associate anything with their particular house when determining preferences.
"When we observe clients flipping through landscape project books, we get something out of it," Marshall says. "Clients tend to keep going back to the pictures that have elements they like, even if the say they don't want it at their house. We get an idea of their likes and dislikes."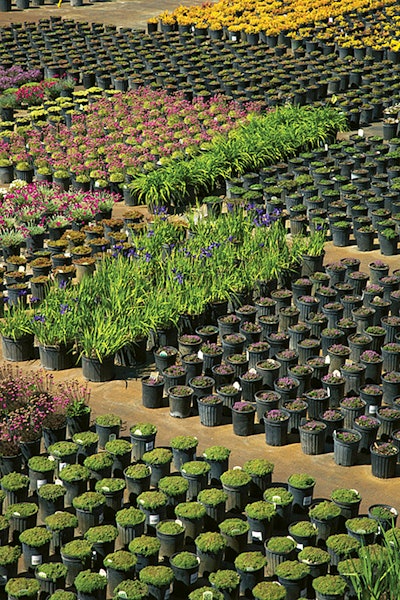 Whitacre and Marshall then go through their inventory, incorporating a client's preferences, and come up with a design. They have a list of more than 30,000 plants in their nursery. Each plant is easily found and identified because every row in the nursery is numbered, and the plants have their own SKU to prevent mistakes.
Whitacre and Marshall even make their own soil to use on their client's projects to ensure their landscaping works of art have the best chance of survival. "We are artists," Whitacre says, "but our palette is with plants. For us, going to a nursery is like going to an ice cream store for some people. There are so many flavors to try out."
Family atmosphere
The sister's close relationship extends to everyone they come in contact with. "Landscaping is very personal. Some of our best friends are our clients," Whitacre says, noting how one of her clients called just to wish her a safe trip before she embarked on a several-week trip to Australia. Another customer called Whitacre after her cat, Maxie, had to be put down.
Sometimes clients call because they are not sure who else to call, and they know Marshall and Whitacre will take care of whatever they need. "We'll do anything they want us to get the job done for them," Whitacre says. "We'll clean their gutters, hang up their hose caddy or even put on window covers."
Their service and work ethic has created loyalty and trust with not only their clients, but also with their employees.
Rhonda Deutscher, who has been with the company for more than 24 years, feels like a part of the family. During her time at Smalls, Deutscher has had four children and become the right-hand woman – now the operations manager – for the business.
"It doesn't feel like a company," she says. "It feels like family. You can take time off of work for your own family and not be worried about being hired back. It's family first here. If you have to take time off to take your mom to the doctor or see your child in a performance, it's not a problem. They don't even question it. You just keep going and work around it."
This family atmosphere extends beyond the typical workplace, too. "I've been invited over to Becky's and Nancy's houses for pizza parties and bonfires," Deutscher says. "They make me part of their family."
To learn how to become a finalist in Total Landscape Care's Landscaper of the Year program, click here.