Denison Landscaping & Nursery is one of the Washington-Baltimore metro area's largest residential and commercial landscape contractors. Located in Fort Washington, Maryland, Denison has been providing landscape maintenance and landscaping services since 1973. Currently, Denison has approximately 80 landscape maintenance employees and operates a fleet of 34 commercial lawn mowers.
A Big Company Can Bring Big Overhead
Denison's size and numerous accounts require efficiency in time management, budget, and equipment maintenance. Since fuel costs play a significant part in profitability, Denison began exploring alternatives to their diesel- and gasoline-fueled equipment.
While attending an industry trade show, Operations Manager Josh Denison, as well as other members of management, were impressed by propane's affordability and efficiency and they invested in converting four of their commercial mowers to propane.
On average, Denison estimates they save 80 cents to a dollar per gallon using propane. The company currently runs four Exmark propane models on a daily basis, saving an estimated $20 to $30 per 72-inch riding lawn mower for a daily savings of $80 to $120.
Fuel Monitoring and Tracking
Denison recently installed an on-site propane refueling station, which helped the company's bottom line by saving employee time, according to Denison Vice President Elbert Monroe. The company has developed a process that includes refilling the cylinders from the bulk propane tank at the end of the day in preparation for the following day's activities.
The on-site propane fuel station also allows for monitoring and tracking, which permits businesses such as Denison to increase their efficiency. By understanding their own usage trends, Denison can better control their fuel budgets and plan ahead.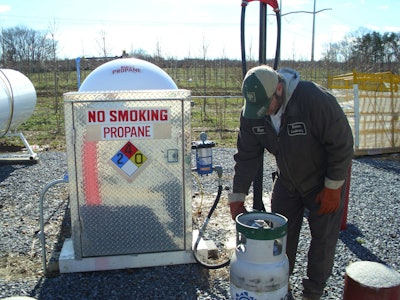 Trucking Along
In 2010, after the success of the propane mower conversions, Denison invested in two Roush CleanTech Ford F-250 trucks to haul equipment. Originally introduced to the trucks by their propane provider, Denison was attracted to propane autogas' low price, convenient refueling options, and clean burn. Monroe is pleased with the trucks' performance and said it's identical to using a truck fueled with gasoline or diesel.
To learn more about propane-fueled lawn care equipment and the Propane Education & Research Council, visit www.poweredbypropane.org.
For more information about Denison Landscaping & Nursery, visit www.densionlandscaping.com.
– Information provided by PERC