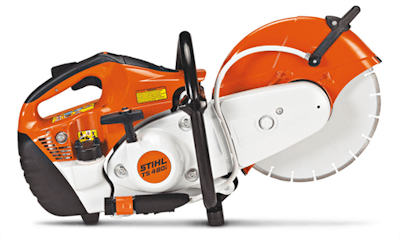 Updates from the second day of pre-Bauma media coverage, including a Stihl concrete cutter and cordless chainsaw, as well as short-radius excavators from New Holland
It can be disconcerting to see a construction worker approach a concrete wall with a chainsaw in his hand. Stihl is previewing a concrete cutter at the pre-Bauma media days here in Munich that is especially effective for wet-cutting concrete walls, natural stone or pipes. Angles and corners are a specialty. The company says the fact that it alone makes its own concrete-cutting chains in this field allows it to integrate all aspects of manufacturing from design forward into a single unit, and the GS461 is the new model that will be here in April.
Stihl will also show a new cut-off saw with electronic fuel injection This is the TS480i that follows the innovative TS500i. The two-stroke saw uses an injection system to automatically ensure high-lugging power and "electronic characteristic mapping" to ensure best fuel consumption and emissions.
The company will also exhibit a new high-performance cordless chainsaw, the MSA 200 C-BQ, which it informally calls "a real chainsaw." It features 30 percent more cutting power that comes from improved battery technology (it uses the 36 V Stihl AP 180 lithium ion battery), 15 percent more motor speed, 20 percent higher torque and it is labelled as a "quiet" machine.
New Holland will also be at Bauma in April (in a booth of their own; not with Case) and will feature new equipment for the international market including a short-radius excavator that may see North America. There will be three models (the E230C SR, E260 SR and E160C Blade Runner) with Tier 4 Interim technology. The company says there is better fuel use and 8 percent better swing torque.
It is, says New Holland, "big performance in a compact package. The Blade Runner catches the eye, with its six-way dozing capability, and of course it can dig and grade. There is a standard six-way dozer blade and foldable, lockable, extending blade wings. It also has power,angle and tilt capabilities and can beangled 25 degrees left and right and tilt for slopes, culverts and ditches.
New Holland will also exhibit new skid steers, compact track loaders and an upgraded motor grader with a low-profile cab.
John Latta, Better Roads editor, from pre-Bauma in east Munich, Germany