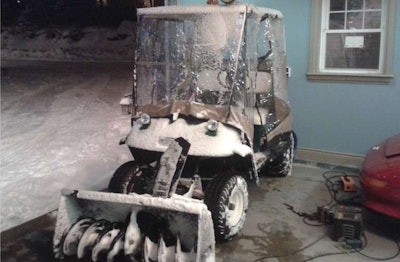 Canadian eco-enthusiast Dan Baker is at it again, pimping a golf cart into an electric snow-blowing machine. Last year, Baker built the Firefly solar-powered boat from scratch, and this winter, he's determined not to be snowed in.
Dubbed "Snowpig," Baker built the snowblower as an alternative to an ATV/utility vehicle, with the added bonus of it being emissions free.
"As far as I know, this is the only vehicle of its type," Baker told Gizmag. "I have seen some lawn tractors and snowblowers converted to electric but none that have a full enclosure and features like mine."
All together, Baker spent about 30 hours customizing the used golf cart by installing a lift kit, converting the snow blower to electric and adding lights and a cab enclosure. He also equipped the Snowpig with a stereo, some heavy-duty circuits for a couple of heaters and an electric coffee warmer mug to keep the chills away when on his 45 minute snow-clearing runs.
"With the subwoofer I installed, I have an app on my phone that I use to play realistic truck engine sounds when naive people ask to hear the motor running," Baker says. "Too funny!"
[youtube 5j5E_KJpiIg nolink]
Read the full article here.
– Bridget Borgobello