Kubota unveiled three new compact excavators at World of Concrete – the KX040-4, KX018-4 and the U35-4. The machines, which replace older models, include a number of enhancements, says Keith Rohrbacker, construction equipment product manager for Kubota. "New features include heated cabs with plenty of leg room, wider door openings and improved auxiliary hydraulics," Rohrbacker says.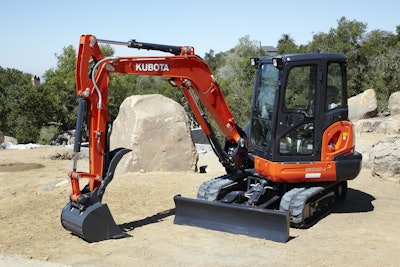 The 4-ton KX040-4 replaces Kubota's most popular model of compact excavator, the KX121-3, and features Kubota's Eco Plus mode, which enables 20 percent less fuel consumption than the previous model. The 42.4-gross-horsepower machine has a 12-foot 9.5-inch dumping height and an 11-foot 2.6-inch dig depth. Additional features on the KX040-4 include downshift travel motors that shift automatically, an improved interior with a large cab and an angle dozer blade option.
The 17-gross-horsepower KX018-4 has a Kubota D902 engine and offers a 7-foot 9.7-inch dump height and dig depth. The machine has retractable tracks that will enable the excavator to fit through most garden gates. A large cab features an adjustable seat and a multifunction digital panel.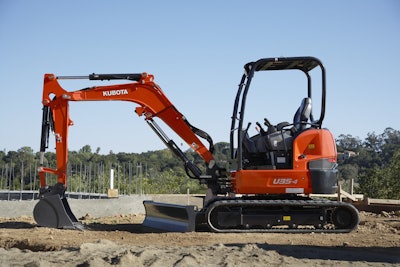 The U35-4, a 3.5-ton tight-tail-swing compact excavator, replaces the U35S2. Equipped with the same cab as a 5-ton excavator, the cab has a large entrance and enhanced ergonomics for operator comfort. The 24.8-gross-horsepower unit has an 11-foot .7-inch dump height and 9-foot 8.9-inch dig depth. An auxiliary 1 diverter valve ensures easy attachment changes by allowing the operator to leave the thumb attached and connect other hydraulic attachments to a second port.