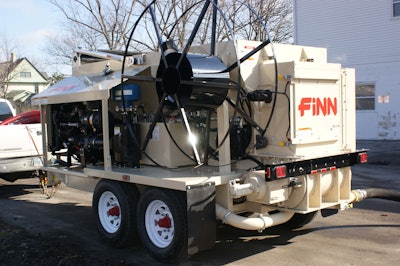 Finn Corporation has introduced the BB 5-Series Bark & Mulch Blower, a model designed for the landscape and erosion control contractor. The first unit leaves the factory March 1 with others scheduled immediately thereafter, filling orders placed by Finn equipment dealers.
The lightweight design and full 5-cubic-yard material hopper increases payload capacity and leaves available more towing options. Due to its simplified control package and streamlined engineering design, the BB 5-Series will be dependable for bark, mulch, compost and soil blend applications.
The Finn BB302 and now the BB 5-Series are considered small size Bark & Mulch Blowers and are traditionally used for residential landscape mulch installation, soil and compost blends for garden beds, and for filling filter sock as an erosion control measure to replace silt fence.