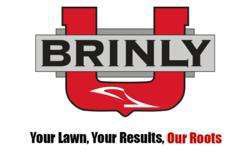 Brinly-Hardy Company launched a new educational platform recently titled BrinlyU.
The educational service will be a free online resource that will provide news, articles, videos and tutorials that focus on lawncare.
The program will allow landscapers, companies and home owners to have accesses to a digital library of the ins and outs of lawncare.
In the early 1800s, a blacksmith known as "Little John" Brinly made plows when he wasn't shoeing horses, mules, and oxen. In 1837, Brinly's son, Thomas E. C. Brinly, had the idea of building a one-piece steel plow using a saw blade. This saw design, with its smooth-scouring steel moldboard, answered the needs of Southern farmers working with heavier soils. Demand for the plows grew quickly, and Brinly moved the booming business to downtown Louisville, where he formed a partnership with James E. Hardy in 1839.