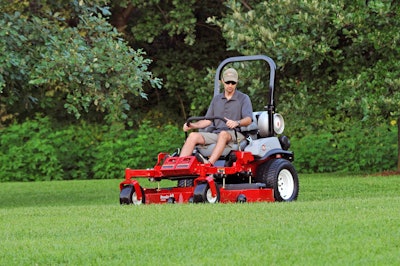 Exmark has made available its propane-fueled Lazer Z S-Series zero-turn rider through the company's nationwide dealer network. The new model will enable landscape professionals to use propane not just as a green alternative, but as a competitive advantage for their businesses.
The Lazer Z S-Series uses a Kohler propane EFI powerplant that improves starting, stronger performance and reduced fuel consumption.
The increased fuel efficiency allows Exmark to achieve up to 7.5 hours of operation from the Lazer Z S-Series on a single tank of fuel. Exmark's one-tank system also offers increased balance for improved handling.
The Kohler powerplant in the new Lazer Z S-Series is the first dedicated, propane-fueled EFI engine package that operates without conversions or aftermarket systems. The automotive-style closed-loop EFI system optimizes air/fuel settings based on exhaust output, in real time, to maximize performance and efficiency while minimizing emissions and eliminating carburetor-related issues for the life of the engine. The ECU-controlled start-up simplifies the sequence and eliminates the need for a choke.
According to Propane Education and Research Council (PERC) president and CEO, Roy Willis, propane is the fuel of choice for landscape professionals who want to reduce costs and emissions.
"Propane is made in America, it's widely available, and it comes with convenient refueling options," he says. "Landscape professionals can run their trucks and vans on it, too."
Thanks to incentives available from PERC, landscape contractors can now purchase propane-fueled commercial mowers such as the Exmark Lazer Z S-Series zero-turn rider, or the company's propane-fueled Turf Tracer models, and receive an up to $1,000 rebate for each new mower purchased.