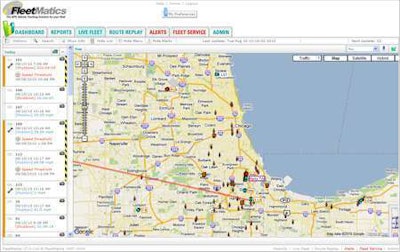 Mike Fucile, national GPS consultant at FleetMatics, answers questions on challenges in the landscaping industry and how using fleet-management systems can help lower costs for businesses.
Q. What are some of the challenges you see facing landscaping companies today?
A. Most landscaping businesses rely on a fleet of vehicles to service their customers. Tracking these mobile workers and vehicles is no easy task and can often become a financial burden. Vehicle and driver mismanagement can result in lost time, higher fuel costs, excessive mileage and damaging wear and tear on trucks or other service vehicles. Without knowing how your drivers are performing and where your vehicles are located, businesses face significant operational challenges.
Bearing in mind the concerns that keep many landscaping business owners awake at night (labor and fuel costs, scheduling, worker productivity and safety, customer satisfaction), fortunately today intuitive and cost-effective fleet-management solutions are available to help relieve these unavoidable pressures.
Q. How do fleet management systems help to address some of these concerns?
A. For businesses that use vehicles as a daily part of doing business, GPS fleet technology can provide visibility into service vehicle location, fuel usage, speed and mileage. Advanced solutions like Fleetmatics can also gather metrics and unique intelligence about fleets and driver behaviors. These reports help business owners better manage their mobile workforces – to reduce operating and capital costs, as well as increase revenue.
Our solution addresses the significant operational challenges faced by the landscaping business owner/fleet operator such as inefficient routing and excessive idling, which results in wasted fuel; lack of visibility into hours worked and manual time keeping, which results in inflated payroll; and, unproductive worker behavior resulting in a loss of billable hours leading to decreased revenue.
For small and medium-sized businesses looking for affordable and effective solutions to these every day pressures, our solution is delivered via Software-as-a-Service (SaaS) and is specifically developed to serve small and medium sized businesses.
Q. How does the technology work?
A. GPS fleet tracking uses the global positioning system to monitor and track the vehicles in your business' fleet. The system provides information on location, speed, direction and time.
Using GPS technology for business fleet applications requires that a GPS receiver be installed on each vehicle. Quality GPS solutions monitor a wide range of vehicle information including speed, engine start up and shut down, routing and idling.
The information from each vehicle must then be transmitted to a remote user. Depending on the GPS fleet tracking system used, the information can be transmitted in real-time (active tracking) or stored on the receiver to be transmitted all at once at a later time (passive tracking).
Remote users can then view maps of vehicle locations and routes or access available reports on vehicle status via the Internet or specialized software.
Q. What is one thing customers learn about their fleet operations that surprises them?
A. Once fleet owners install GPS tracking in their vehicles, they quickly discover how important the technology is when streamlining and improving the entire operation in ways never imagined. Take for instance the cost of idling as it relates to the bottom line. Our system notifies you when a vehicle idles for excessive periods of time, wasting fuel and being nonproductive. Significant cost reductions are made possible as a result of this intelligence.