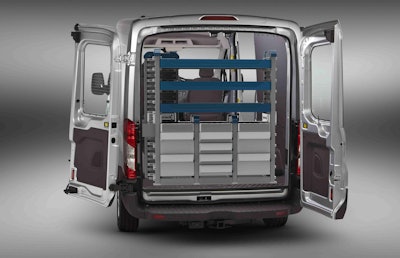 Landscapers, home builders, HVAC specialists and contractors who use commercial cargo vans and box trailers for their work will have a lighter cargo management system to use by this fall, according to Masterack, a division of Leggett & Platt Commercial Vehicle Products. The system was released at the NTEA/Work Truck Show 2013 this week in Indianapolis, Indiana.
The system is called SmartSpace, and it's an all-new cargo management system targeted to create a revolutionary change in cargo storage.
The SmartSpace cargo management system uses injection molding, and structural foam provides the same storage and strength as steel storage units.
The highly configurable storage system, which is still in product development, features stackable shelf units, designed for use in the new high-cube cargo vans coming to market within the next 18 months. These include the Ford Transit and Ram ProMaster vans, as well as smaller fleet vehicles such as the Ford Transit Connect and Nissan NV200.
The system satisfies Masterack's installation partners' desire to reduce installation time for the system.
SmartSpace will be available to Masterack customers in the fourth quarter this year.