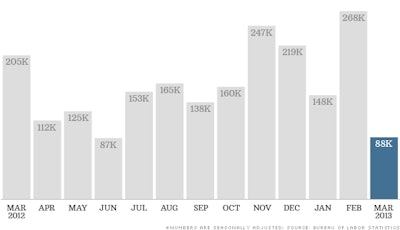 Hiring slowed sharply in March, with the economy adding only 88,000 jobs, the lowest monthly gain since the past June.
Economists surveyed by CNNMoney were expecting an increase of 190,000 jobs. The unemployment rate slipped to 7.6 percent, according to a Labor Department report released Friday.
Experts had expected the jobless rate to remain at 7.7 percent. But the decline is not good news: It's because nearly 500,000 people dropped out of the labor market.
No need to panic. Still, the report left economists cautioning not to read too much into one month's numbers. While the dour news was unexpected and has tempered some economists' views on the labor market's health, many still expect hiring to continue at a steady clip for the rest of the year.
"Payrolls can be very volatile from month to month," says Jim O'Sullivan, chief U.S. economist at High Frequency Economics, who thinks monthly jobs figures will average around 175,000 for the rest of the year. "I'm not inclined to panic over one 88,000 number."
Read the full article here.