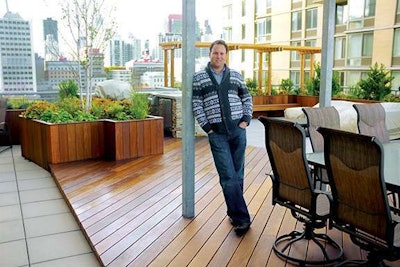 Michael Madarash and Kokobo Greenscapes reaches new heights in urban landscaping by finding a niche and building a superlative creative team.
Hurricane Sandy made news in late October 2012 because of its spectacular devastation, particularly in and around New York City. While it was a Category 1 storm off the coast of the northeastern United States, the storm became the largest Atlantic hurricane on record, with winds spanning 1,100 miles.
One of the iconic images in the midst of the storm's rage was a high-rise crane, buckled and dangling perilously above the skyline in Manhattan. Michael Madarash, principal designer of Kokobo Greenscapes and TLC Landscaper of the Year Finalist, remembers it well.
"We were hunkered down," he says. "It was an anxious time because I worried about the damage it might do to our business, as well as the 10 or so projects we had underway in Long Island and the city."
Kokobo had recently moved into its new main facility just a couple of weeks before the storm and hadn't yet finished moving everything from the Long Island location, so they had the added complication of having staff, equipment and supplies in two places.
After little more than two weeks, the company was tending to clients' needs again. Rooftop gardens and green walls, the specialty of Madarash and his team, were repaired, and as properties became accessible and the drying out process was complete, the office phone began to ring again.
Star power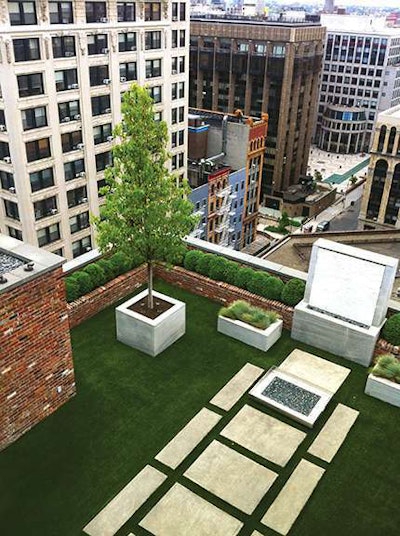 Kokobo is unique among most landscaping companies with its focus on urban landscaping, often in small, confined spaces or high atop building terraces and roofs in Manhattan. The company grossed $1.2 million last year and has experienced star-struck progress, working with celebrities and benefiting from exposure in magazines such as Architectural Digest and Better Homes and Gardens, and TV shows on HGTV and PBS.
The company's team faces daily tasks not only of producing and selling beautiful designs but handling the complex logistics required to work in and around the city.
For example, Madarash is all too familiar with how cranes operate in Manhattan. He often employs them to lift tons of soil, lumber, metal, granite and fixtures such as spas and outdoor kitchen appliances.
"Depending on the area, there can be complicated permitting processes, streets have to be closed, traffic rerouted and material delivery coordination issues. It's demanding and expensive."
However costly and complex, using a crane has been a solution for Madarash and his team. "Six hours of crane time versus 11 days of manpower at almost triple the cost is an easy choice for our clients."
Kokobo's rooftop gardens are noted for their intelligent use of space while keeping proportions in line, which can be a challenge "because we have clients who want all the elements you would have in a large backyard in a space that might be as small as 300 square feet."
Recent projects include installations of a 30-foot tall, 650-square-foot green wall installation at 30 Rock (NBC's headquarters) and several "pocket parks" in narrow spaces between buildings in Harlem for a nonprofit restoration project headed by the entertainer Bette Middler.
Grounded
While all of this may sound lofty, literally and figuratively, Madarash has had his share of experiences that kept his feet on the ground and perhaps a time or two on bended knees.
In 2009, Kokobo had to lay off 23 employees, and managing finances became a tightrope walk for Madarash. "We had a previous period of explosive growth," he says. "We did virtually everything in-house.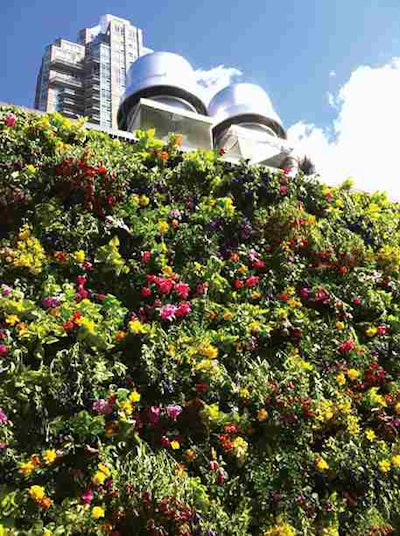 "When the bubble burst in 2008 and the economy took a nosedive, we had major clients who went under in the middle or end of projects and who were either majorly delinquent or, in a few cases, completely unable to make good on payments. Philanthropic organizations and even government contracts we had under long-term contracts no longer existed."
So, Kokobo regrouped and refocused. The company came back leaner, serving as a creative studio with the ability to design, expedite and manage project designs. On the installation side of work, they were more of a general contractor, while handling landscape-specific elements in-house, such as planting, irrigation, greenwall installations and horticultural maintenance. All of the carpentry, masonry, electrical, plumbing and arboriculture is handled by a select group of subcontractors who have proven track records.
"We became a specialty design house," Madarash says, "with a phenomenal array of subcontractors who have special fortes."
Head in the clouds
"The primary key to our success is the team that surrounds me. I work with people who have marvelous skill sets and the ability to share a vision for what needs to be accomplished and understand how to be on the same page with clients in the process."
During his early years in the landscaping business, Madarash toiled like many others. "I started when I was age 14 with a 21-inch Toro mower," he says. In 1996, he graduated to a 36-inch Toro mower, driving a Chevy C-20 and working with three high school friends.
"I thought I was king of the landscape world," he says, building stacked stonewalls, planting unique designs and maintaining approximately 20 properties.
Madarash attended the University of Massachusetts, graduated with a degree in horticulture/agronomy and became an assistant golf course superintendent. He quickly became "bored out of my mind," he says as the job duties were repetitive and the course was well-established and not planning renovation projects.
In 2000, he left to work at another firm in New York and began to learn about interior plants, holiday decorations and the possibility of landscaping in the city. A year later, he left that company to start his own business and incorporated Kokobo Greenscapes in 2001.
He established work with clients across Long Island, the Bronx, Queens, Nassau and the Suffolk County's north shore, doing mostly suburban landscapes and "whatever it took to please clients," including once painting seats and decks at a baseball field.
The breakthrough came in 2004 when Kokobo took on its first rooftop garden in Manhattan. "I fell in love, working in the urban environment with the skyline in the background," he says.
While at the 2008 American Society of Landscape Architects (ASLA) conference in Philadelphia, Madarash saw several displays that featured green walls, and he had a light-bulb moment. "They make perfect sense for many of the projects we do," he says. "You're faced with limited space and various obstacles."
He realized a plain brick wall could be converted from an eyesore to a beautiful painting made with splashes of color provided by plants.
Future vision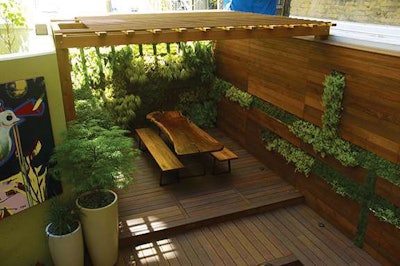 Recently married, Madarash honeymooned with his wife, Lindsay, in French Polynesia and came home with not only a new bride but also a mind full of new ideas. "Visiting the islands and seeing the exotic foliage and settings was so invigorating," he says.
"While snorkeling one day, I was in a coral garden under 5 feet of water and saw a transition of coral types that will be featured on a transition of ipe decking and limestone for an upcoming design."
So it would not be surprising to see even more innovative uses of water and fire features, green walls, outdoor kitchens, entertaining areas and lighting in future projects by Kokobo.
Madarash says 10 years from now he hopes to be doing "exactly what I'm doing now, but on a slightly bigger scale and in more locales. I want to be known as the urban landscape firm in North America and beyond."
To learn how to become a finalist in Total Landscape Care's Landscaper of the Year program, click here.