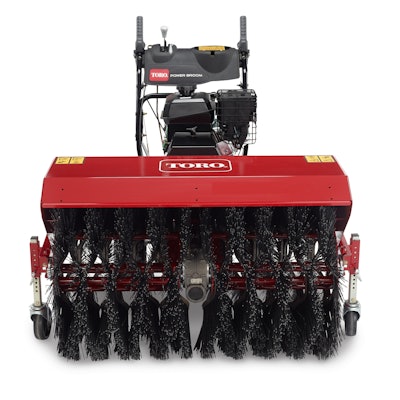 Toro has introduced a 36-inch Power Broom for commercial landscape contractors.
The rotary broom features a Kohler 208CC Command Pro Multi Season engine and delivers 200 RPM to the broom head.
The transmission has six forward and two reverse options, and the broom features wheels that can be disengaged independently or simultaneously with trigger controls.
Independent control levers adjust the rotary broom's drive and boom engagement along with a thumb-operated broom angle adjustment that can be positioned up to 20 degrees to the left, right or center.
The pin-type height adjustments can be adjusted at 1/8" increments, and the broom can be configured with snow and concrete bristles or turf bristles.
Accessories include:
Tire Chain Kit
Snow Cab
Turf Caster Kit
Dirt Deflectors
Concrete/Snow Bristle discs
Turf bristle discs
Light kit
Debris kit