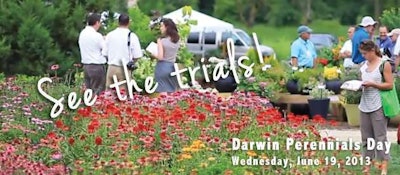 On June 19, perennials will be in full bloom for onlookers at the Darwin Perennials Day happening at The Gardens at Ball in West Chicago, Illinois.
The showcase will feature dozens of perennials supplier exhibits, guest speakers and the latest information from the market, including Gerbera comparison trials from Kieft Seed.
The event will begin at 8 a.m. and end at 3 p.m. and includes a grab n' go breakfast and sit-down luncheon.
Event Includes:
More than 25 perennial and woody ornamental suppliers
Information stations and demonstrations
Guest speakers Chris Beytes and Maria Zampini
Unique mixed container recipes on display
Register here.