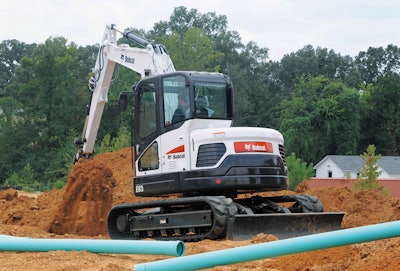 Bobcat Company is not only growing in numbers in the compact excavator family, but it's also growing in size.
The company has added the largest compact excavator to the M-Series excavator lineup with the E85 Minimal Tail Swing machine.
Weighing at 18,960 pounds, the machine features increased arm and bucket forces, fuel efficiency and cycle times.
Operators can also use features like blade float, multi-function joysticks, color instrumentation panel and auto-shift drive system.
The machine is powered by a 59.4 horsepower diesel engine, which is Tier 4 compliant. The engine features a high-pressure common-rail fuel injection system, diesel oxidation catalyst (DOC) and a diesel particulate filter (DPF).
The E85 includes the Bobcat in-track swing frame for the boom and has a 5.8-inch tail overhang.
The machine's hydraulic system features 8,069 foot-pounds of arm force, and the bucket force has increased to 14,509 foot-pounds of breakout force. The E85 has a dig depth of 15 feet 6 inches.
Featuring fingertip boom swing and auxiliary hydraulics functions, the E85 includes boom cylinder guards, which protect the boom cylinder when the excavator is digging.
Breakdown:
Horsepower:

59.4 hp diesel

Operating weight:

18,960 lb.

Width:

91 in.

Arm force:

8,069 ft.-lb.

Bucket breakout force:

14,509 ft.-lb.

Digging depth:

15 ft. 6 in.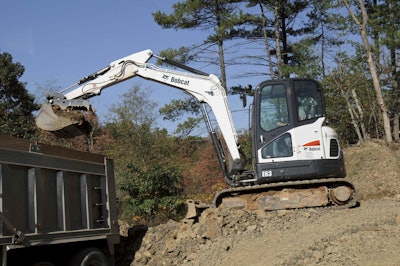 The E63 Compact Tail Swing excavator has also seen improvements in joystick controls, lift capacity, arm and bucket forces and drive performance.
The E63 has replaced the E60 and is the second-largest machine in the company's compact excavator family.
The machine has an increased horsepower of 13.5 percent to 59.4 horsepower with a diesel engine, which is Tier 4 compliant.
The E63's upper structure is shifted rearward on the undercarriage unlike the E60.
Featuring 11.6 inches of tail swing overhang, the E63 has a new multi-language color panel that includes fuel level, coolant temperature, day/time, throttle position and engine rpm. Operators can also select auxiliary hydraulic flow modes and rates from the panel.
There is also a new blade float feature, which allows operators to smoothly grade, level or backfill material. The blade height is 16.1 inches, which is a 21 percent increase compared to the previous model.
Breakdown:
Horsepower: 59.4 hp diesel


Operating weight: 13,779 lb.


Width: 78 in.


Arm force: 5,767 ft.-lb.


Bucket breakout force: 9,731 ft.-lb.


Digging depth: 13 ft. 6 in.