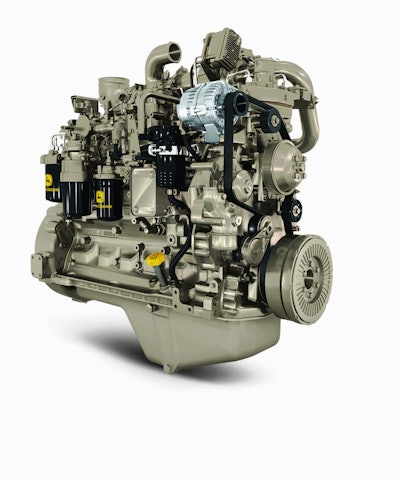 John Deere Power Systems (JDPS) has received emissions certifications from several organizations.
The company's engine lineup 130 kW (174 horsepower) and above has received U.S. Environmental Protection Agency (EPA) Final Tier 4, European Union (EU) Stave IV and California Air Resources Board (CARB) emissions certification.
The PowerTech PVS 6.8L, PowerTech PSS 6.8L, PowerTech PSS 9.0L and PowerTech PSS 13.5L models are the first John Deere off-highway engines to receive Final Tier 4, Stage IV and CARB emissions certification in the 130 kW to 560 kW (174 horsepower to 750 horsepower) power category.
Final Tier 4/Stage IV emissions regulations begin on Jan. 1 of next year for engines 130 kW (174 horsepower) and above. Each engine requires an 80 percent reduction in nitrogen oxides from previous Interim Tier 4/Stage III B requirements.
For 93 KW (125 horsepower) and above engines, John Deere will offer models that have an Integrated Emissions Control system configured with cooled exhaust gas recirculation (EGR), a diesel oxidation catalyst (DOC) and diesel particulate filter (DPF), as well as a selective catalytic reduction (SCR) system.
Diesel exhaust fluid consumption with the company's Final Tier 4 engines will be 1 to 3 percent of diesel fuel consumption depend on the application.
With diesel fuel economy gains achieved through increased injection pressures and the optimized Integrated Emissions Control system, John Deere Final Tier 4/Stage IV engines are expected to improve upon the total fluid economy of Interim Tier 4/Stage III B engines. Low DEF consumption also means the DEF tank size can be smaller, minimizing space required on equipment. Other benefits of low DEF consumption include less on-site bulk storage requirements for customers and extended DEF filter service intervals.
Models and power ratings for the certified Final Tier 4/Stage IV engine lineup 130 kW (174 hp) and above include:
PowerTech PVS 6.8L: 138 kW to 187 kW (185 hp to 250 hp)
PowerTech PSS 6.8L: 168 kW to 224 kW (225 hp to 300 hp)
PowerTech PSS 9.0L: 187 kW to 317 kW (250 hp to 425 hp)
PowerTech PSS 13.5L: 309 kW to 448 kW (414 hp to 600 hp)