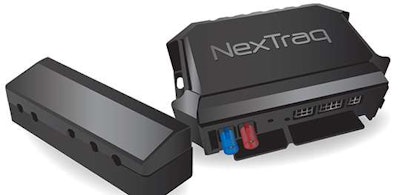 NexTraq has introduced a new series of fleet-tracking devices to help owners better evaluate crews on the road.
The VT-2400 series can track aggressive and dangerous driving behaviors such as harsh braking, cornering and jackrabbit starts.
The series also features the Tamper Shield, which is designed to cover device cables to prevent tampering and help the accuracy in readings.
Tracking in one-minute intervals, the series comes with a built-in accelerometer that allows business owners and fleet managers to monitor driver behavior thoroughly.
The fleet trackers also offer gyroscope technology, which follows and tracks a vehicle's movements.
Featuring a back-up battery, the VT-2400 series includes an internal antenna for further prevention of tampering.
The series is available in 3G networks and is Bluetooth-enabled, as well as supports J-Bus connectivity for heavy trucks.
Features:
TamperShield capable for additional device protection
Operates on the 3G network and allows for growth to 4G technology
Built in accelerometer and gyroscope for accurate driver behavior data
One minute tracking intervals
Multiple I/O ports for various add-on features