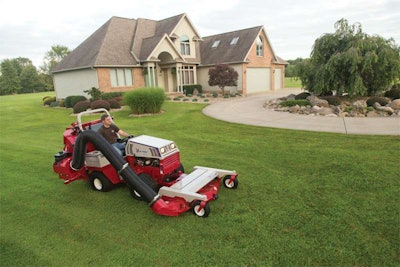 Landscapers can collect grass and start cleaning fall leaves with Ventrac's RV602 Vacuum Collection System.
Designed for the professional landscape contractor, the RV602 features a debris containment bin that hydraulically raises 5 feet to place debris in a dump trailer, pickup truck or on the top of a compost pile.
The vacuum also includes a quick disconnect vacuum hose to help clean flowerbeds, hedges and hard-to-reach places.
The RV602 attachment connects to the Ventrac 4000 series tractors and includes a 10 horsepower electric-start motor, high-capacity bin and quick detachable vacuum hose.
Features:
Collects grass clippings
Clears fall leaves
Collection bin raises up to 60-inches high
Detachable Vacuum Hose for convenience
16ft cubic ft. 300-pound. high capacity bin
Easy to connect to tractor
Works with Ventrac HM or HP 60-inch and 72-inch mowing decks
10 HP Vanguard engine