SnowEx has designed a machine to make snow removal around sidewalks easier.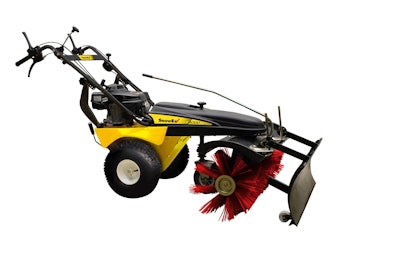 Powered by a 160cc Honda GXV Series engine, the SS-400 is a walk-behind rotary broom with a plow attachment.
The SS-400 has a pivotal broom head with five angle settings to adjust the trajectory of snow and is 16 inches in diameter.
With an adjustable speed, the brooms down pressure can be increased or decreased by raising or lowering the pneumatic support wheel.
A front-mounted blade attachment comes standard with the machine for heavier snow conditions. The 40-inch blade uses a pin system.
Operators will find a seven-position height adjustment of the handlebars and three forward gears, as well as one reverse gear.
There is also a freewheel feature for 360-degree turning.
Other standard features include winter-tread tires and a corrosion-resistant paint finish.
A debris collector box is optional.