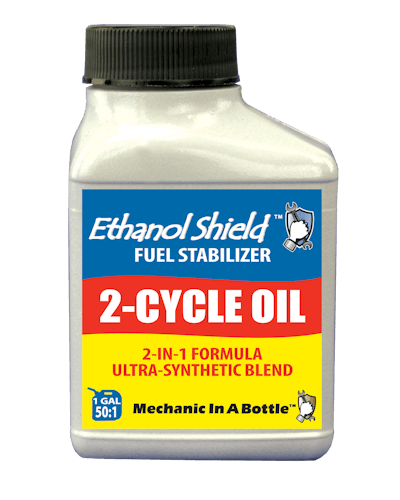 B3C Fuel Solutions has introduced a new engine-protection product to its line up.
Ethanol Shield 2-Cycle Oil is a ultra-synthetic blend two-in-one formula, which is made up of 2-Cycle Oil with benefits from the company's Ethanol Shield Fuel Stabilizer.
OEM tested, verified and approved, the 2-Cycle Oil is a "bridge" that bonds fuel, Ethanol and water, preventing phase separation and other problems.
All fuel containing Ethanol contains water bound to the Ethanol, which is hygroscopic and continues to attract unbound water.
Phase separation is the point where this Ethanol/water mixture reaches saturation and "falls out", settling on the bottom of the tank.
This can lead to issues like corrosion, varnish, rust and brittle rubber/plastics.
The 1-gallon, 50:1 mix can be used in string trimmers, blowers, snowmobiles, chainsaws and more.
Features:
Protects & Prevents Repairs; Extends Engine Life
Stabilizes Fuel up to 1 Year
Protects Against all Ethanol Issues
Triple Antioxidants Stops Fuel Decay
Rust and Corrosion Inhibitors
Bonds 2 Cycle Oil to Fuel; Stops Lean Seizures
Reduces Lacquer and Varnish Build Up
Protection Against Ring Wear and Sticking
Conditions Rubber & Plastic
Low Smoke Formula

Top Tier Detergent