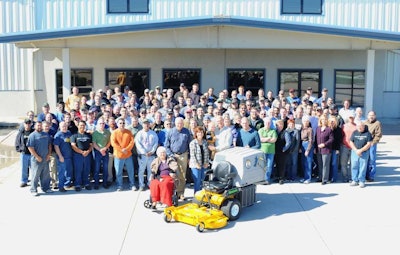 Walker Manufacturing is celebrating after its completion of its 125,000th mower.
On Oct. 18, the mower rolled of the line to be greeted by 155 Walker employees.
"This represents the work of our people at the factory along with hundreds of people in our sales channel and thousands of customers who have made Walker Mowers a part of their livelihoods," Walker President Bob Walker says.
The company has celebrated milestones throughout its history, including two Walker Mowers Family Reunions in 2000 for mower number 50,000 and 2008 for mower number 100,000. Thousands of customers, suppliers and dealers came together in Fort Collins, Colorado for a two-day celebration.
Number 125,000 is scheduled to ship at the end of October to Walker Distributor Specialized Mowing of Wagga Wagga, New South Wales, Australia.