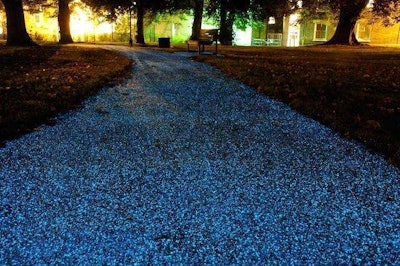 Pro-Teq carries out trials of a surfacing system that absorbs energy from ambient light during the day and releases the energy at night.
Starpath from Pro-Teq Surfacing has been sprayed onto the existing pathway that runs through Christ's Pieces open space, Cambridge between the city center and the Grafton Centre and is used by pedestrians and cyclists during the day and night, reports The Construction Index.
It is aimed at enhancing visibility to assist users of pathways. The company said it can also help to reduce the risk of collisions between cyclists and pedestrians at night without having to resort to artificial painted center lines.
Cities are turning off street lighting at night for energy savings, and Starpath provides a viable alternative, says Hamish Scott, owner of Pro-Teq Surfacing (UK). Once the aggregate is laid, they can apply a finishing coat, which is specially formulated to ensure the surface is water-resistant.