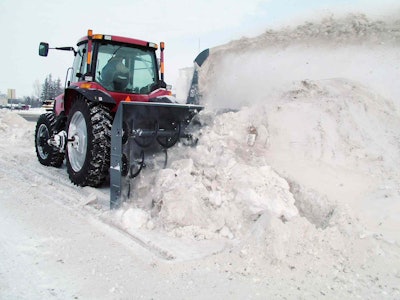 Loftness has introduced the I Series to its SnowLogix line of snow blowers.
Featuring four models of tractor-mounted units, the I Series are available in 9- and 10-foot widths.
The I Series has been engineered for large tractors with tall tires, and offers a two-stage design with 16-inch diameter augers and 36-inch diameter fans.
Both 9- and 10-foot blowers are available with either two or three augers. Models featuring two augers measure 48 inches high and those with three augers measure 66 inches high.
The I Series includes a chain drive, a gearbox, bearings and steel construction.
Featuring a 14-inch diameter and 270 degrees of rotation, a hydraulically adjustable spout comes standard with the machines. Truck-loading spout options are also available, as well as hydraulic- and electric-actuated deflectors.
I Series snow blower requirements include a Category II or III three-point hitch, 1,000 RPM PTO, and 140 to 200 PTO horsepower.