As a teenager, Jason Gordon spent his summers working with two uncles in New Hampshire who ran their own businesses. Both worked hard and left a strong impression on Gordon – one an owner of a well installation and maintenance company, while the other ran a sanitation installation and repair company.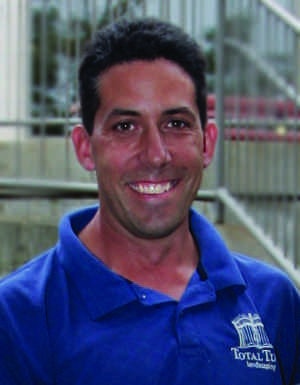 "I learned running your own business allowed you to be more independent, and the harder you worked, the more you could potentially profit from it," Gordon says.
Gordon later entered college and graduated with a degree in turf management from Delaware Valley College in Pennsylvania. He took related jobs along the way, "basically working the grounds of various golf courses," and eventually landed a position as a spray technician at Congressional Country Club for the 1997 U.S. Open Championship.
For many landscape professionals, this would be a dream job. But Gordon was not content. He had dreams of running his own business, as his uncles did. That drive and vision would eventually lead him to founding Total Turf in Westchester County, New York.
Early Rewards
Gordon's first break came in 2001 while he maintained the golf course of a large estate in Chappaqua, New York. With this one account as a booster, he started Total Turf. "I figured as I grew older if I didn't try it [running a company], I might regret it," he says.
Gordon and one other worker took whatever jobs came their way the first two years, sometimes driving up to two hours for landscape project work. "It was occasionally stressful, and I wondered how we would get by," he says. "I had $6,000 in the bank and a wife in graduate school.
"But while it was challenging," he adds, "it was one of the most rewarding things I've done with my life. I put everything we made back into the business. The best investment you can make is in yourself."
Mostly through word-of-mouth referrals, Gordon's business grew and focused almost entirely on residential properties and homeowners associations (HOAs). The work varied from maintenance and plantings in spring and summer to snow plowing in the winter. He added several more large estates to his portfolio, and these have been the key to Total Turf's success.
They also proved to be a mixed blessing when the economy tumbled in 2008. That year, Total Turf grossed nearly $1.4 million, but then the phone stopped ringing and his business dropped nearly 10 percent.
"It hit me that I had 15 guys working for me and a fleet of trucks and equipment," he says. "If I wanted to keep going, I would have to do things differently."
Savvy Advice
In early 2009 while attending a landscape association meeting, Gordon decided to check out a seminar presented by Strategy Leaders, a business consultant company that was from the same area as Gordon.
"There were just four people, my father and me in the seminar, so in a way, it was almost a one-on-one," he says. "Andi Gray (president of Strategy Leaders) challenged us to think about our businesses in a different way and to create more aggressive and forward-thinking planning."
Gray gave some grave findings: Some 95 percent of business start-ups fail within 10 years, and most businesses never profit and reach "Stage 2."
"She reconfirmed what I had been thinking with statistics. Some 95 percent of business start-ups fail within 10 years. Most businesses don't profit and reach what she called 'Stage 2'. She likened Stage 1 companies to a tent with one pole holding up the tent. (And I was that pole)."
"It intrigued me," he says. "So I asked a lot of questions, met with Andi several times and agreed to a two-year executive development program where we met every other week. It was expensive upfront, but it was like getting a personal business consultant, something a lot of us in landscaping do not have."
Step by step, one piece of the business at a time, Gordon and Strategy Leaders looked at how to improve the company, from sales and marketing to human resources, operations and finance.
They set goals, and Gordon and his employees learned how to overcome obstacles. They developed a five-year plan with a goal of doubling the company's income. Three years into the plan, Gordon says they are on pace to reach $5 million in sales annually.
Building Support
To achieve this ambitious target, Gordon says he had to learn to be a better manager. "Before, everything had to go through me. I did everything, wrote the paychecks, created estimates, made phone calls, etc."
But by delegating and instilling confidence in his team, Gordon is no longer the single pole holding up the proverbial tent. Construction foreman, Jared LaTour, is being groomed to become operations manager on a year-round basis. Edwin Sporin, head horticulturist, has become a "key player" in handling more sales, design and estimates. German Manzo, maintenance supervisor, is overseeing the company's six to eight crews. Gina Alterio, office manager, is handling more of the accounting and marketing.
Choosing Clients Correctly

While word of mouth continues to provide the most leads, Gordon says, "We need to do more marketing to increase brand recognition in the company's targeted area to reach new customers. Do we put more into advertising, building a better website and using social media? It's a tough beast and our biggest challenge."
Gordon has identified his key client as a residential owner who has home and property valued between $2 to $50 million. "Anything below $2 million doesn't put us where we can really excel, and you have a lot of competition," he says. "Above $2 million, there are less than a half-dozen companies in the area who can compete with us in that market."
He has learned to cultivate relationships with realtors who sell the type of properties he's targeted. He also works hard to "get in front of" and build relationships with HOA's property managers, who may represent accounts for Total Turf of $10,000 to $250,000 annually.
One of the largest accounts to date has just been signed with an HOA for a three-year deal at $275,000 annually. Gordon says he has been working to gain the account for four years and has known the property manager for five years.
Total Turf also cares for the estates of several celebrities and corporate leaders in the Bedford, New York, area, which is not far from Manhattan. One actor's estate maintenance and design/build projects netted nearly $1 million during the past two years.
The early lessons Gordon learned from his uncles in New Hampshire still burns bright in his memory and character. "I like the idea that as I grow and become more proficient, the company grows, too," he says. "There's just something about building and running a business and the process that I really enjoy. But you also have to persevere every day, and never take your eye off the basics."
By Billy R. Sims