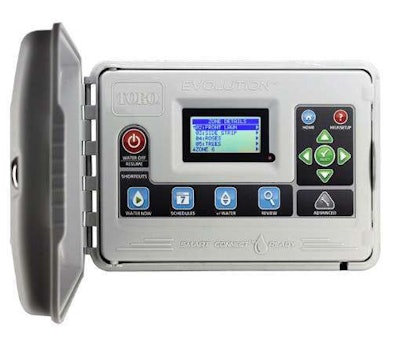 Toro's Evolution controller has been named the winner of the Irrigation Association's 2013 New Product Contest in the Turf/Landscape category.
The Evolution controller was launched in the spring of this year and features an intuitive interface, USB functionality and smart upgrade path.
Toro has won three years in a row with its Precision Soil Sensor in 2012 and the PrecisionSense site assessment in 2011.
The company also received "best new product" honors from IA in 2008 with its Precision Series Spray Nozzles.
The Evolution controller is designed to perform like a traditional time-based controller, but could transform into a "smart" controller with water-saving upgrades that could be added during the installation process.
Toro's wireless Smart Connect feature can be added to the controller to provide smart irrigation products like rain/moisture sensors, a weather sensor, handheld remote control and auxiliary features such as landscape lighting.