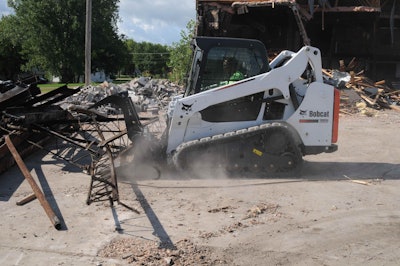 Bobcat Company has introduced its first Tier 4 loaders that include a non-diesel particulate filter (DPF) engine solution.
The seven medium-sized machines each feature the Tier 4 technology with the non-DPF solution, which was achieved by designing an ultra-low particulate combustion (ULPC) engine.
The ULPC is accomplished through a specially designed engine combustion chamber that reduces the amounts of particulate matter created during combustion.
In addition to eliminating the need for a DPF, the new engines used in 500 frame-size loaders will have a 4 to 12 percent increase in torque.
The S510, S550 and T550 have a radius lift path, and the S530, S570, S590 and T590 models have a vertical lift path.
The loaders feature a machine protection system that monitors, manages and shuts down the engine if needed. This system monitors engine coolant and oil temperatures and will manage engine systems to reduce the potential of these fluids reaching a point where the machine has to be shut down.
The skid-steer and compact track loader line also include cold weather protection. Anytime the engine temperature is too low, the loader will temporarily limit the maximum engine speed (rpm) to prevent premature component wear or failure. Engine idle speed is also raised slightly to help the engine reach its operating temperature faster. As soon as the engine warms up to a predetermined temperature, the protection mechanism will deactivate.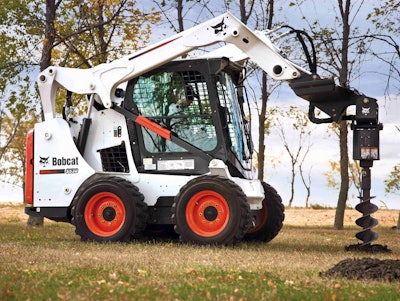 Cab-Forward Design
The 500 frame-size loaders include a cab-forward design that moves the operator closer to the attachment.
Windows on the sides and rear of the cab are larger in size to provide more visibility to the tires and back of the machine. The top window has also been enlarged.
Maintenance
The auxiliary hydraulic quick couplers are mounted directly to the front plate of the lift arm to provide a solid mounting, and hoses are routed through the loader arms for protection.
Comfort
The 500 frame-size loaders feature a redesigned interior and improved cab pressurization.
Operators also have the choice between standard foot pedal hydraulic controls, the Advanced Control System (ACS) or the Selectable Joystick Controls (SJC) on all machine models.
Operation
The hydraulic systems on M-Series loaders have been engineered for higher standard flow and pressure.
Engine horsepower and hydraulic flow are matched to the loader's rated operating capacity, size and weight.
Available only on M-Series loaders, the optional deluxe instrumentation panel monitors key loader functions — including fuel consumption — and the keyless start helps prevent theft.
The machines also include a 5-inch, full-color LCD screen.