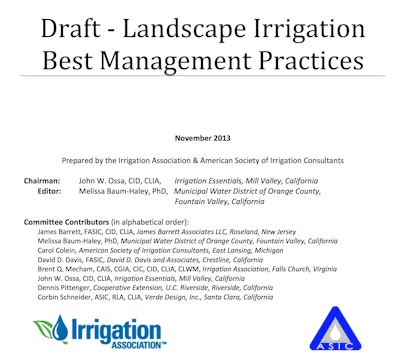 The Irrigation Association and American Society of Irrigation Consultants have released a new version of the Landscape Irrigation Best Management Practices.
Open for public comment until Dec. 10, the document has been updated from more than a year collaboration between IA and ASIC.
The update includes new engineering practices and emerging technologies for efficient water use.
The revised document includes:
A broader discussion on all potential irrigation water resources.
More emphasis on the importance and role of the water manager.
Three BMPs that address the design, installation and management of irrigation systems.
Practice guidelines for effective implementation and adaption to local conditions.
This update includes the input from IA and ASIC irrigation professionals to make sure the BMPs remain relevant in today's market, which is moving toward sustainability.
The updated BMPs have been reviewed by industry professionals — designers, consultants, contractors and water managers — to verify that the content remains relevant.
The revised document and comment form can be accessed on the IA website.