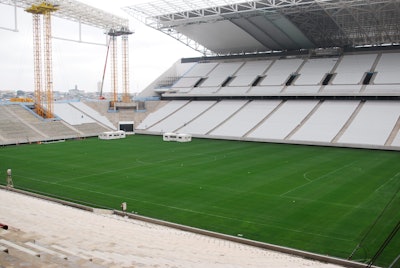 The stadium being built for the opening ceremony of the 2014 FIFA World Cup will obviously include a playing field – but don't let your eyes deceive you.
The "Arena de Sao Paulo" in Sao Paulo, Brazil will feature the Desso GrassMaster system, a hybrid artificial turf system made up of 20 million artificial fibers.
The stadium will host the opening match as well as five other matches, including the semi-final, during the tournament.
The system consists of a 100 percent natural grass pitch into which artificial fibers are injected 18 cm deep, every 2 cm across the pitch.
After the World Cup, the stadium of Sao Paulo will be home to Sport Club Corinthians Paulista.