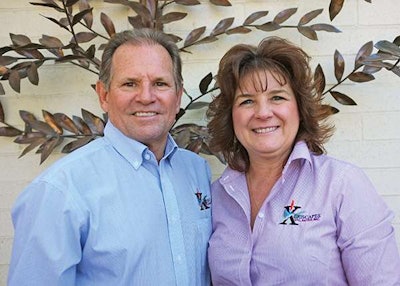 In the 1970s, Rod Pappas was intent on becoming a rock star.
He played lead guitar and vocals for various bands in the Phoenix, Arizona, area. His hair was shaggy, as was the trend, and his voice full of vigor and enthusiasm, singing songs such as "Sharp Dressed Man" and "Rebel Yell."
It was a lifestyle, he says, that was "on the edge and not conducive to family life or a relationship of any kind." True enough, and when the gigs dried up, he found himself looking for other work, eventually finding his way into the landscape business as a laborer and then going solo in 1983 as a subcontractor.
From digging ditches to starting his own business in Phoenix 30 years ago, Pappas hasn't looked back – although he still strums the guitar and sings along with son, Derek, for family and friends on occasion.
His company, Xeriscapes Unlimited, grossed $2.4 million last year, and Pappas expects it to reach $3 million this year. The company has 40 clients, primarily large commercial maintenance contracts – two of which are homeowners associations (HOA) that span a square mile each.
In the process of building his business, he gained an understanding years ago, before it became the imperative it is now, to seek ways to carefully shepherd water usage and encourage the use of native vegetation and natural features in landscapes like boulders and desert granite in place of water-hungry turf. Along the way, Xeriscapes has become a star in its own right in the Arizona landscaping industry and an award-winning company noted for sustainable practices.
In fact, the company's conference room and hallways are lined with awards, including one of which Pappas is most proud, Total Landscape Care 2013 Landscaper of the Year Finalist.
Simple steps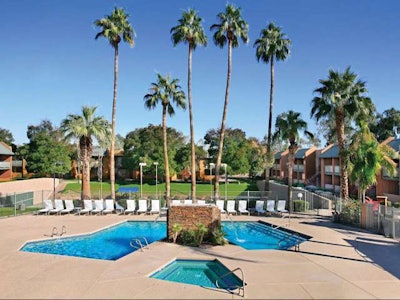 "The first day running my own business as a subcontractor in the 80s, I put in a 16-hour day," Pappas says, "and the temperatures here can reach well above 100 degrees. I asked myself, 'Why did you have to open your big mouth and say you could handle it.'"
Throughout the 80s and early 90s, Pappas steadily built his business by adding more commercial accounts along with crews and equipment. "Once property managers saw how we worked and the quality of our projects, they asked me to bid on other jobs," he says. "And management of neighboring properties often would do the same. Pretty soon, I would find myself doing the whole block."
Pappas worked out of his home in Tempe, Arizona, during this period, and the rapid growth of his company meant he had crews and trucks full of materials parked outside his residence, much to the annoyance of his neighbors.
He attributes finding and buying the property where he's now located in central Phoenix as a major breakthrough that allowed Xeriscapes to grow exponentially to its present size.
"The property was owned by a guy who was entangled with the IRS and wanted a cash deal," Pappas says. "I asked family and friends to invest in me, and I was able to do the deal."
Today, Xeriscapes' location includes a 2,500-square-foot office and 10,000 square feet of warehouse space. "With this much space, we were able to grow our business significantly," Pappas says. He and his wife Deanna, who is vice president of the company, employee 50 people, consisting of eight maintenance crews, two construction crews and three irrigation crews – plus office staff. Equipment includes 23 trucks, 10 trailers, 15 Exmark and Hustler ZTR mowers, two skid steers and two mechanics working alternate shifts to keep it all running.
Sustainable works
"Water management" have become buzzwords in places like Phoenix, with annual rainfall of only 4 to6 inches annually. There's also a trend away from tropical plantings and turf to more natural landscapes. Pappas saw this coming and was an advocate for it 20 years ago, long before these practices came into vogue.
"Once property managers saw how we worked and the quality of our projects, they asked me to bid on other jobs."
"I would see houses and structures with turf right up to their walls, many of which were stucco or wood, and the subsequent damage caused by water from irrigation systems," he says. "We've pushed for using less turf and in more appropriate ways.
"Using native plants, which require less water, accentuated with boulders and lighting can really create a beautiful and appropriate landscape." In fact, Pappas notes bulldozing mesquite trees for new development is now prohibited. These natives have to be salvaged and relocated as close as possible to their original locations. "You see places like the Mayo Clinic here, which is a huge facility on 50 or 60 acres, that looks like it's just been dropped into the desert landscape."
And while some landscapers might think these properties would mean less work for their businesses, Pappas has seen the opposite. "Indigenous landscaping doesn't mean we're out of a job. In fact, it requires a far more delicate and informed type of maintenance than one full of tropicals where you basically just water and prune."
Smarter ways
One of the breakthroughs in water management systems is so-called smart controllers that allow adjustments to watering times and distribution based on real time weather data, some offering remote control via smart phone. Pappas was quick to embrace the technology for Xeriscapes but sometimes finds it hard to convince clients of its value.
"We're still fighting the battles on sustainable practices," he says. "I tell the boards of some large homeowners associations, for example, they can save $30,000 a year on water by investing $20,000 in smart controllers. You'd think it would be a no-brainer, but it's not. Getting people to make the initial investment is sometimes like pulling teeth.
"But once you get these controllers dialed in, they do an incredible job," he says.
Even pruning can be a contentious issue. Pappas trains employees how to prune in a renovation style that is done on a seasonal basis versus accepted styles, which convert shrubs and ground covers into shapes such as cones, balls and flat tops. Renovation style reduces waste that goes to landfill and reduces the stress on shrubs, which requires more water to recover from foliage removal. "It is a matter of education," Pappas says.
Bi-Lingual training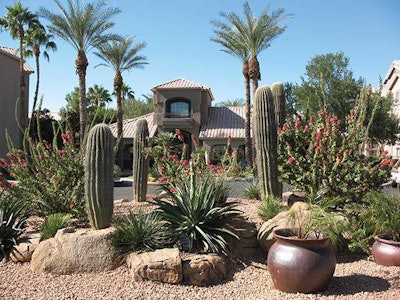 Pappas not only tries to inform clients of best practices but has also been active in the Arizona Landscape Contractor Association, which has about 400 members. While president of the organization in 2004, he pushed for bi-lingual training in Spanish and English for certification courses with mixed results. He reports, though, that in the past couple of years, classes have been offered in Spanish.
Pappas has even brought the idea into his own business and beyond by creating 30 bilingual safety and training videos for his own crews. The videos were eventually adopted by Arizona's workmen's compensation insurer and distributed to nearly 1,000 businesses.
He and Deanna, who closely manages the details of the accounting and supplies of the business, recently oversaw the creation of a small landscaped area on their business property that is used for training purposes and for crews to relax and use for breaks.
Building relationships
Asked to identify the key to his success, Pappas says simply: "Relationships."
Many of the owners of the large properties Xeriscapes maintains are far removed from the details of landscaping and may not even be on the site. "I learned that doing a quality job is not enough. You have to work to build trust in relationships with clients. People do business with people they trust and respect."
To nurture business relationships and networks, Pappas attends HOA board meetings. "And when they have events on the property, we do everything possible to help, which might include providing a large flatbed truck that can be used as a stage and generators."
Xeriscapes has also been deeply involved in providing volunteer services for a number of causes, including the local 100-room Ronald McDonald house, one of the largest in the country, Make a Wish Foundation and Los Niño's Children's Hospital, among many others.
When considering the future, Pappas says he hopes one or both of his two children in Arizona may work their way up through the business. But he adds, his 17-year-old son, Derek, is more interested in management "than shoveling granite when it's 110 degrees."
Since there is no landscaping hall of fame, like with rock and roll music, Pappas hopes to leave his legacy in a different way. "It'd be wonderful to have a garden like the one at Ronald McDonald House named after me, to be remembered with a plaque on a beautiful garden.
"That would be pretty cool," he says, "much cooler than being a rock star."
By Billy R. Sims