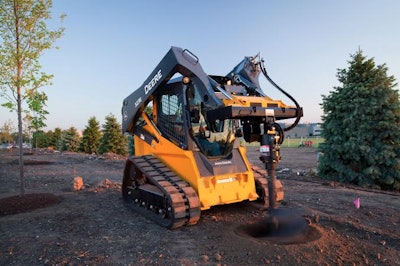 Two skid steer models (318E, 320E) and two compact track loader models (319E, 323E) join John Deere's E-Series line, which was introduced earlier this year.
The machines include upgraded boom performance, auxiliary lines that are integrated through the boom and cab improvements aimed at improving operator and machine productivity, uptime and lower daily operating costs.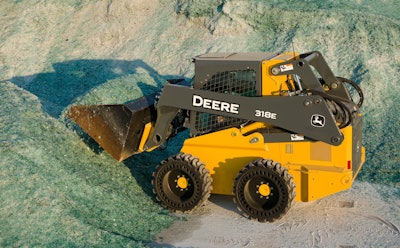 John Deere offers control patterns on these models including traditional hand and foot controls, hand-only controls or low-effort, electro-hydraulic (EH) joystick controls in both the ISO and "H" patterns.
The E-Series features an option that allows the operator to switch between all three industry control patterns.
The mid-frame models also include an improved boom design.
Other new features include connect-under-pressure auxiliary hydraulic couplers and courtesy lighting that stays on up to 90 seconds after the engine is shut down.
The mid-frame E-Series models also include a new keyless-start, sealed-switch feature with an anti-theft system and a ride-control option that features shock-absorbing boom cylinders. Another option gives customers the ability to convert the foot throttle pedal into a decelerator pedal.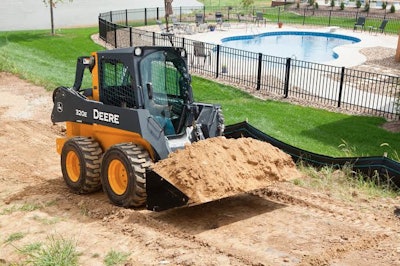 The mid-frame models include a pressurized cab with better visibility, auto-idle to help conserve fuel and improved service access.
In addition, the reversing fan can be set to automatically reverse to clear core-clogging buildup.
The 318E, 320E, 319E and 323E are powered by Yanmar Final Tier 4 diesel engines. The engines in all E-Series models feature cooled exhaust gas recirculation (EGR) with an exhaust filter consisting of a diesel oxidation catalyst (DOC) and diesel particulate filter (DCF).
All models are compatible with more than 100 available Worksite Pro attachments.