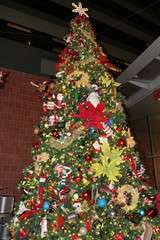 One hospital is going to glow a little brighter this Christmas with the help of one lighting company.
Vista Professional Outdoor Lighting has decorated the Children's Hospital Los Angeles (CHLA) for the ninth year.
Vista Professional founder Dan Cuñado and his wife Martha donated lighting and decorations to the hospital for patients and their families to admire.
The Cuñado family flipped the switch on the holiday lights at the CHLA holiday tree lighting ceremony earlier this month.
Broadway stars, Hollywood celebrities and Santa Claus himself were there to countdown to the lighting of a 35-foot holiday tree.
"We received such phenomenal care and support when our son was in the hospital," Cuñado says. "The lights and decorations are our way of recognizing Children's Hospital LA for the positive impact it has on patients' lives."