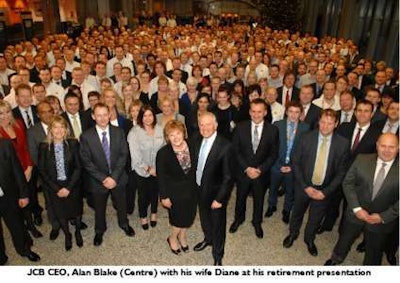 JCB CEO, Alan Blake, has announced his retirement after more than 25 years of service.
Alan Blake became JCB CEO on Jan. 1 2010, and was the 5th person to hold the position.
Chief Executive Officer Designate Graeme Macdonald took over as CEO on Jan. 1.
During Blake's time, JCB's production growth doubled from 36,000 to 72,000 in a five-year period.
Blake will remain an advisor to JCB.
Blake joined JCB in 1989 from Somerset-based Westland Helicopters after a 19-year stay at the company.
He joined JCB Transmissions in Wrexham in 1989 as Operations Director with responsibility for developing new transmissions for two of JCB's two products: the backhoe loader and Loadall telescopic handler.
In 1995 he was promoted to Managing Director of JCB Transmissions and led the company through a period of growth, which saw the doubling of production capacity with the opening of a second plant at the Wrexham site.
In 2000, Blake was appointed Managing Director of JCB Service.
In 2003, he became Group Manufacturing Director responsible for JCB's global production operations and led the biggest expansion and investment program in the company's history.
In 2009, Blake became JCB's Chief Operating Officer before taking up his current position.