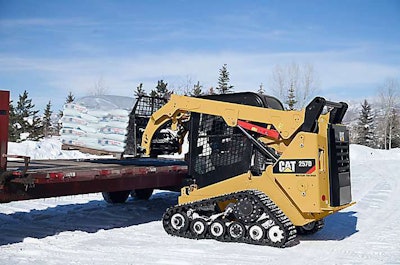 As freezing temperatures strike the country, using the right equipment for the job is crucial.
With temperatures dropping into the negatives and places getting more than a foot of snow from Winter Storm Ion, landscapers need to know how to make the most out of equipment and attachments.
According to Caterpillar, using the right attachments can play a large role in improving machine efficiency and versatility.
The company has put together a few tips on how to get the most out of winter work tools.
Anticipate hazards
Operators should consider obstacles, like curbs and manhole covers, which can damage the equipment, and more importantly the customer's property. Snow blowers and brooms can quickly clear snow, but they can also throw rocks and other debris hidden under the snow. If you don't know what's under the snow or you are working near cars or buildings, it might be best to push the snow or load it out with a bucket.
Get creative
In drier winter climates, snow pushes can be used to push tall grass, and snow blowers can be used to spread materials like mulch. In snowy areas, buckets and brooms can be used for snow and ice management. Spreaders prove useful in any winter climate because they can disperse salt, fertilizer, lime or other landscaping materials.
Maintain equipment
Follow recommended maintenance and cleaning requirements to avoid corrosion of exposed mechanical parts. Make sure cutting edges are adjusted properly for even contact across the surface to avoid damage, and remove ice from chains and joints for better angling and rotation.
Assess your options
Some attachments perform better in specific situations. For example, using a winged snow push to move large amounts of snow is more efficient in open areas with few obstacles. Snow blades or blades with angle functions are better for maneuvering around blockages.