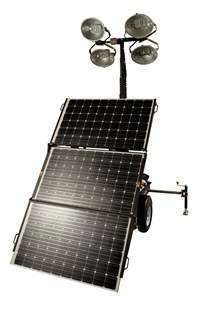 With the help of the Propane Education & Research Council (PERC), Magnum Power Products has created an energy-efficient way to illuminate construction jobsites.
The two groups have created the Magnum MLT4000S Solar Hybrid Light Tower, which is solar-powered and propane-fueled.
The tower's back-up generator keeps its batteries charged in all conditions, and it does not consume diesel fuel.
Propane does not degrade over time, reducing fuel-related performance problems. Propane also emits fewer carbon dioxide emissions and toxic pollutants than diesel.
During the daytime, the solar-panel array charges the light tower's batteries for the nighttime. If the sun does not appear during the day, a propane-fueled, air-cool Generac generator turns on automatically and recharges the batteries until the solar panels can take over.
The tower features LED light fixtures that provide more than 50,000 hours of illumination.
PERC is also offering those interested a $3,500 incentive to purchase the tower through its Propane Heat & Power Incentive Program.