Drafix Software has released the latest version of its PRO Landscape design software.
PRO Landscape Version 20 coincides with Drafix's 20th anniversary and is designed for landscape designers, contractors, architects and garden centers.
Version 20 adds more than 1,000 new images to the photo-imaging library bringing the total to more than 12,000 objects, which can also be accessed from a cloud-based server.
This version features enhancements to the free PRO Landscape Companion tablet app for iPad and Android tablets, including the ability to design on the tablet and create a price quote.
Features include:
Photo imaging: A design, sales and communication tool that provides customers with a photo realistic presentation of the proposed project.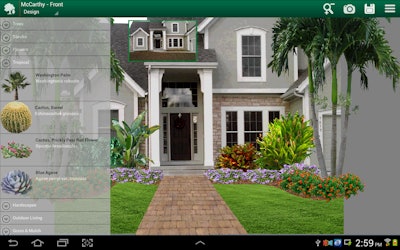 Companion mobile app: PRO Landscape includes a free mobile app for iPads or Android tablets that allows the designer to create, present and quote designs out in the field. Users can also transfer designs between the tablet and desktop/laptop version of PRO Landscape.
CAD: PRO Landscape creates 2D site plans that represent the installation of plantings, sprinkler systems, and hardscapes.
Customer proposals: PRO Landscape generates bids for the client directly from either a photo imaging or CAD design. Users can produce not only the quote itself, but a complete proposal that includes a cover sheet, quotation, materials list and plant detail information.
3D rendering: Create 3D renderings from any design project. Convert a photo image to 3D and show customers the proposed landscape project from any angle. The user can also transform 2D CAD drawings to 3D.
Night & holiday lighting: PRO Landscape also includes night and holiday lighting design capabilities. The lighting features allow the designer to place landscape or holiday lights and automatically illuminate the design.
Product and pricing information: PRO Landscape Version 20 is available and is compatible with Microsoft Windows XP, Windows Vista, Windows 7 and Windows 8. PRO Landscape will run on a Mac if the appropriate Windows software is installed. Version 20 sells for $1,495. Current PRO Landscape users can upgrade to the newest version starting at $295 depending upon their current Version.