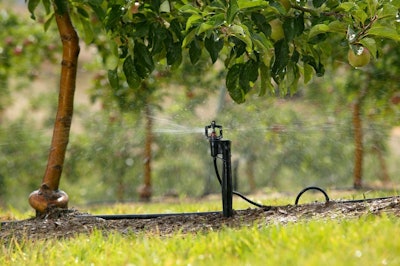 The Toro Company has introduced a pressure-compensating sprinkler.
The Micro Sprinkler 7 PC is designed for nursery applications where undulating terrain and long lateral lengths are challenging.
By using a unique pressure-compensating design, the Micro Sprinkler 7 PC provides uniform flows and diameters over a wide range of operating pressures.
The sprinkler system also features a wider diameter of throw than previous Toro models.
Features include:
Wide diameter of throw from 16 feet to 31 feet, depending on sprinkler model
Pressure-compensating sprinkler provides uniform flow over a wide range of operating pressures from 20 psi to 60 psi
Low angle of throw to maximize irrigation under foliage
Identification in eight color-coded flow rates ranging from 9 GPH – 40 GPH
Snap-fit bearing provides better field inspection and maintenance
Improved distribution characteristics with larger droplet sizes that are less susceptible to wind
Anti-insect/dust proof spinner retracts to protect nozzle when not in operation
Optional break-off deflector tab allows the sprinkler to be placed near a newly planted tree to concentrate water where the roots are developing
Fully assembled models available with pre-installed tube and stake