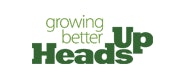 Heads Up Landscape Contractors is seeking interns nationally for its annual 12-week program.
Heads Up is looking for students who are studying business, landscape design, landscape management, horticulture and other disciplines.
The landscaping company typically visits career fairs in New Mexico, as well as Brigham Young University in Provo, Utah and BYU's Idaho campus. The company also looks for students at Colorado State University, Oklahoma State University, Kansas State University and Mississippi State University.
The company plans to offer student internships to up to 12 students.