With H-2B being a recurring topic of conversation among landscapers, PLANET, the Professional Landcare Network, has detailed a new concern.
According to the organization, the latest H-2B cap could be hit for the first half of fiscal 2014.
For those unfamiliar, the H-2B cap, is statutory numerical limit, or "cap," on the total number aliens who may be issued a visa or otherwise provided H-2B status (including through a change of status) during a fiscal year, according to the U.S. Citizenship and Immigration Services.
"If you are applying for H-2B workers with a start date during March and your petition is still pending with the Department of Labor (DOL), there is the potential that you could be impacted by the cap," PLANET's latest alert states. "If your petition is pending with the Department of Homeland Security (DHS), you should be included under the latest cap estimate from the DHS."
As of Feb. 14, the DHS estimates that it will take 41,000 target beneficiaries to reach 33,000, which is the cap for the first half of the fiscal year. According to PLANET, the current cap count is more than 35,000.
"Every year, the DHS establishes a number of H-2B applicants that it believes will achieve the 33,000 half year cap," the alert says. "This number is actually higher than 33,000 to account for withdrawals and denials. Sadly, the target number of 41,000 is much lower than past estimates, despite the fact that the cap has not been reached in the past several years."
The targets for the past few years have been as follows:
FY 2013 — 44,000
FY 2012 — 45,000
FY 2011 — 47,000
FY 2010 — 47,000
The U.S. State Department shows visas issued for fiscal years 2010-2012 did not reach the annual cap of 66,000:
FY 2012 — 50,009
FY 2011 — 50,826
FY 2010 — 47,403
PLANET is urging those involved to contact Congress and senators to encourage the DHS to increase the H-2B target beneficiaries to 47,000, which is the target number that DHS has issued for several years.
Fiscal Year 2014 H-2B Cap Count
As the USCIS receives H-2B petitions for fiscal year 2014, the chart below will be regularly updated.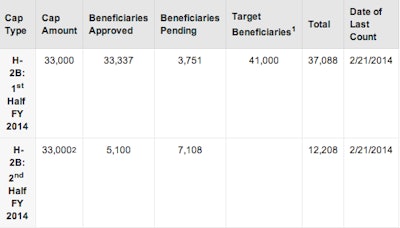 (1) Refers to the estimated number of beneficiaries needed to be included on petitions filed with USCIS to reach the H-2B cap, with an allowance for withdrawals, denials, and revocations. This number will always be higher than the actual cap.
(2) As noted, if the cap is not reached for the 1st half of the fiscal year, those numbers will be made available for use during the 2nd half of the fiscal year. In some fiscal years, therefore, depending on demand for H-2B workers, more than 33,000 cap-subject persons may be granted H-2B status during the 2nd half of the fiscal year.