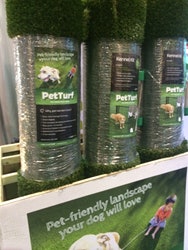 EasyTurf unveiled its latest line of artificial grass at the Global Pet Expo in Orlando, Florida.
The line, PetTurf, features pre-cut roll options and kennel kits, as well as pet-friendly grass.
EasyTurf uses 100 percent permeable artificial grass backing called MaxxFlow.
Dog whisperer, Cesar Millan recently introduced EasyTurf artificial grass as his turf-of-choice for pet owners. Millan says drainage was critical in his decision to partner with EasyTurf on the 10,000-square-foot installation of artificial grass at his Dog Psychology Center in Santa Clarita, California.
"We have a lot of land to cover, so it's important to me that our landscaping is easy to care for, safe for our pack and has proper drainage," Millan says. "Not only does Easy Turf look just like natural grass, it helps to eliminate common lawn problems associated with pets like brown spots from urine, tracked in mud, grass clippings and it can even deter your dog from digging holes."