To add a little variety to projects, Bill Bongaerts has introduced a new company called Shelter Outdoor.
Shelter Outdoor specializes in modern outdoor structures for commercial and residential markets.
The company's product line includes shelters, cabanas and umbrellas.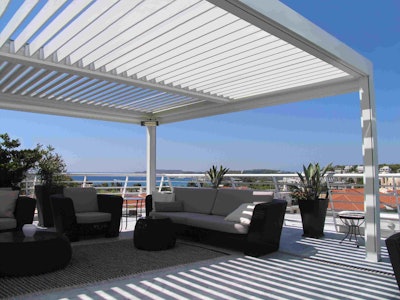 Shelters
The made-to-order outdoor living spaces are Belgian in design and rectangular in shape.
The shelters feature the minimal, modern frame and are made to client's specifications, so standard sizes don't apply.
Remote-controlled, motorized aluminum louvered ceiling panels open, and when closed, the louvered roof blades provide a flat, weatherproof ceiling and an integrated gutter system channels water away.
Motorized side and back roller panels, adjusted by remote control, are integrated into the structure. Panels come in canvas or screen material; PVC windows are optional. Shelter is available in standard colors of white or anthracite grey.
Options:
A 2,000-watt, frame-mounted heater.
Rain and wind sensors. When moisture or increased wind speed is detected, the shelter automatically closes the louvered ceiling for protection from the weather and rolls up the side panels to protect them from wind damage.
LED lighting can be integrated into the louvered panels. Lights come in white or RGB (red, green, blue).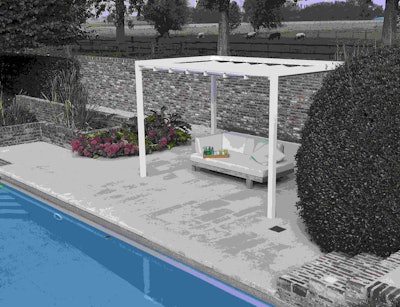 Cabanas
The square and rectangular frames feature a retractable, water resistant canvas roof and tracks for side curtains. The aluminum frame is powder coated.
Cabanas come in three standard sizes:
10 feet by 10 feet
10 feet by 13 feet
13 feet by 13 feet
Umbrellas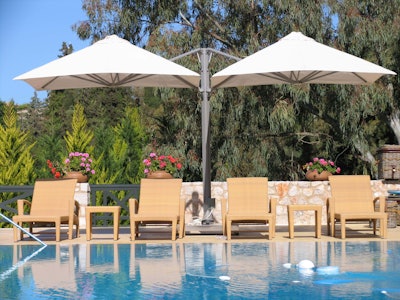 Shelter Outdoor offers two umbrella styles: the P6 (cantilevered multi-pole) and the P50 (single pole). P6 umbrellas feature the One Move System, a gas-spring pole mechanism that raises or lowers the umbrella.
The P6's multi-pole design holds up to four umbrellas that can cover 285 square feet. The pole can be grounded to the floor with an anchor or secured with a steel base with added weights and a stainless steel cover.
The P50 umbrella is a single pole umbrella. The P50 is made from anodized aluminum and comes with two base options, a floor plate that can be anchored to the ground, or an aluminum base, which can be filled with sand for added stability.