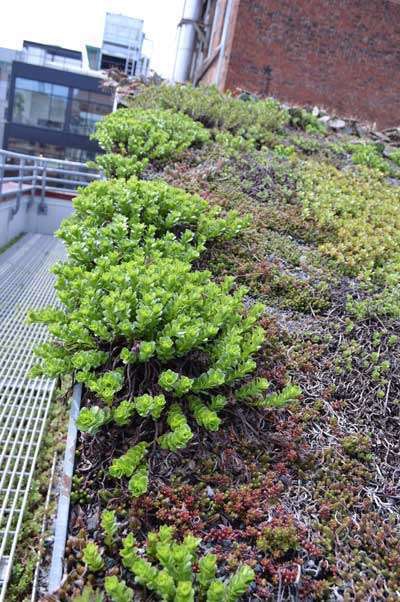 With the help of the American Society of Landscape Architects' headquarters, Washington, D.C. was able to rank second on the U.S. Environmental Protection Agency's (EPA) 2014 list of the top U.S. cities with the most Energy Star certified buildings.
ASLA's headquarters was one of 435 Energy Star certified buildings in 2013 that helped Washington, D.C., make the list. To earn EPA's Energy Star, buildings must be more energy efficient than 75 percent of similar buildings across the country.
The building employs energy-efficient systems and practices—including a green roof that reduces energy usage by 10 percent in winter months. ASLA offsets 100 percent of its electricity use by purchasing Green-e Energy certified renewable energy certificates from wind farms in the United States. An automated building management system controls access, lighting, and heating/cooling systems, and puts the building to sleep each night.
The green roof was designed by Michael Van Valkenburgh Associates and some key benefits include reduced building heating and cooling costs and reduced stormwater runoff.
The green roof reduces energy usage by 10 percent in winter months. It also does not contribute to D.C.'s urban heat island effect.
In 2013 alone, Americans, with the help of Energy Star, saved an estimated $30 billion on their utility bills and prevented greenhouse gas emissions equal to the annual electricity use of more than 38 million homes.