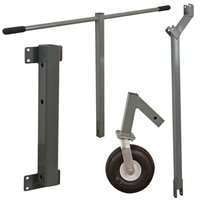 A.M. Leonard has introduced accessories to help landscapers on the job.
The company has released a variety of accessories for its Leonard Ball carts.
The carts are available with flat-free tires, and users can attach the Leonard universal bracket to carry more, a trailer attachment so a tractor or gator can pull it or add a caster wheel for stability.
A t-bar attachment can also be used with an extra-wide handle for more leverage and control with extra large loads.