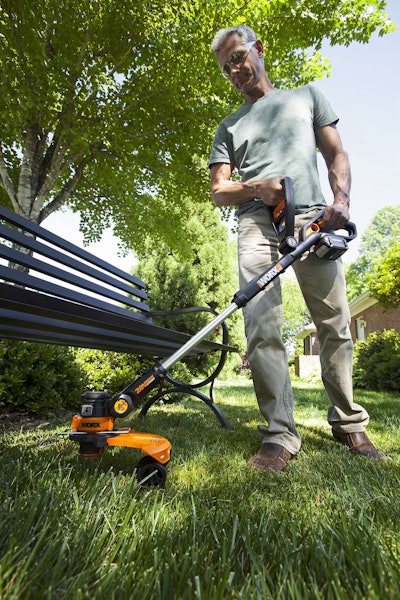 Worx's latest trimmer is really three tools in one machine.
The battery-operated 32V GT trimmer is cordless and features a 12-inch swath.
Weighing 6.2 pounds, including the battery, the trimmer features a telescoping shaft that adjusts to the user's working position.
The trimmer also includes an adjustable, rubber-coated, front-assist handle.
The head of the trimmer can be moved from 0 to 90 degrees by turning a dial at the base of the shaft.
The extended and adjustable spacer guard helps protect flowers, shrubs, trees, yard furniture and ornaments from damage.
The trimmer uses .065-inch-diameter line, and features an automatic line feed.
If a user twists the cutting head, the trimmer turns into a wheeled, walk-behind edger.
The trimmer incorporates a pair of wheels to help guide the operator along the edges. The wheels can be removed when not in use.
The wheels can also be placed in the mini-mower position. The mini-mower trims grass at a cutting height of three inches.
The 32V trimmer earned the Energy Star label. Products with the Energy Star label are considered eco-friendly, help prevent global warming and promote cleaner air.