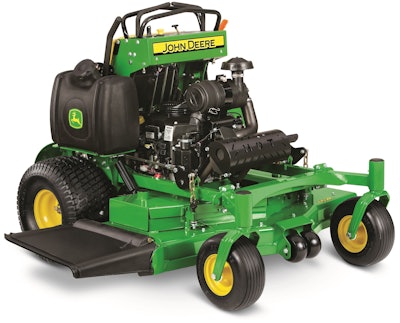 Previously only available in the ZTrak line, John Deere's Mulch On Demand (MOD) mower deck is now on select QuikTrak stand-on commercial mowers: the 652R MOD and 652R EFI MOD models.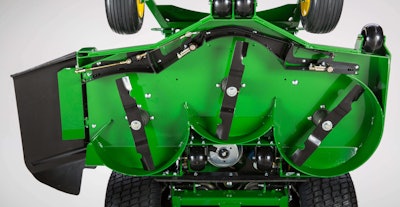 The John Deere Mulch On Demand deck allows an operator to switch between mulching and side discharging without leaving the mower. The QuikTrak MOD can be converted from a wide-open-side-discharge mode to a full-chambered mulching mode or any position in-between by holding down on the electric switch that is located on the dash.
The 652R MOD features a commercial-quality V-twin air-cooled engine coupled with hydrostatic transmission. The unit is equipped with a seven-gauge, 52-inch Mulch On Demand mower deck and a 23.5-horsepower engine. The 652R EFI MOD has a commercial-quality electronic fuel injected (EFI) V-twin air-cooled engine. The EFI model is also equipped with a seven-gauge, 52-inch MOD deck, and it comes with a 25-horsepower engine.
Want more Deere news? Read about John Deere's mower propane conversion kit and compact utility tractors.