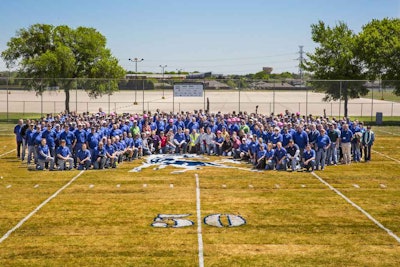 Ewing has completed its second annual Pride Project.
The Pride Project is a way for the company to give back to the community with this year's effort focused on water efficiency, sustainability, education and safety.
More than 350 Ewing Irrigation employees and partners worked together at the St. Philip the Apostle Catholic School in Dallas, Texas to renovate the campus' irrigation system, as well as build a football field, community garden and outdoor entertainment area.
Ewing chose the school for this year's project, because it didn't have the resources to construct a safe field for the students.
After much planning and preparation from Ewing's North Texas team and partners Landscape Unlimited, Mesa Verde Landscape, Precision Pavers and Environs Group, the project was ready for completion.
Ewing repaired the multi-purpose athletic field, installing an eight-zone irrigation system with central control, new sod for a flat, safe surface to play and a variety of other improvements such as repainting the bleachers, field and foul lines and the installation of tackling dummies and a snack bar.
The Ewing team and partners also built 10 garden beds for the school and church community to grow vegetables and provide hands-on learning for students.
Volunteers also installed an outdoor entertainment area that features a paver patio, landscape lighting and outdoor sound system.
Additionally, Ewing and volunteers completed a campus-wide irrigation system renovation at the school and church to make it more efficient.
Additional partners who donated materials and labor also included: Landscape Products, Hunter Industries, Baseline Systems, Pavestone, Sunbelt Rentals, Corona Tools, North Texas Landscaping, Majestic Outdoor Lighting, Lawn Master Irrigation, Moon Visions, Philips Hadco, World Class Paints, WWIP, AquaSmart Pro, Bonus Crop, Graco Paint Machines, NDS, Service Wire and JM Eagle.