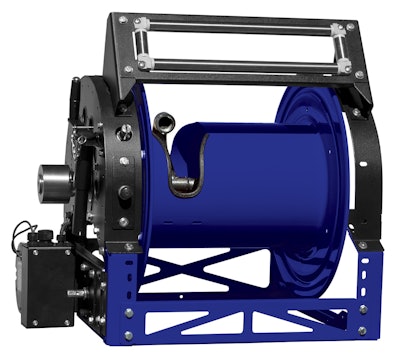 Coxreels debuted its 1600 Series hand crank and motorized hose reels.
The reel has a variety of component configurations, as well as comes in different sizes.
The 1600 Series offers a variety of drum and disc size combinations for many dimensions and hose length capacities and is currently available in 1- and 1.5-inch NPT, BSP or NST nickel-plated swivel inlets.
The reel features original add-ons and an all-welded "hybrid" frame with the strength of an "A" frame mounted on a box frame for structure.
Some options include a universal bracket to accommodate the bevel gear rewind system and hose guide rollers at various angles and three-gear ratio idler gears to reduce speed and increase torque on motorized versions.
There is also a three-way pin lock that can rewind, lock and disengage the reel for free unwind.