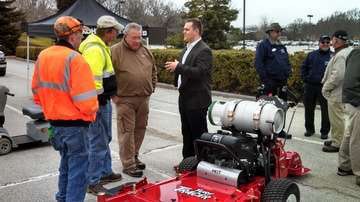 The Propane Education & Research Council (PERC) and Stoltzfus Farm Service hosted a Propane Mower Demo Day event.
Back in March, the two groups put on the event for 35 landscape professionals at Longwood Gardens in Kennett Square, Pennsylvania.
The landscapers attended the demonstration to learn about propane's benefits and try out the latest propane-powered commercial mowers.
The event featured education sessions and a question-and-answer session with industry experts, along with a lunch and afternoon of testing equipment.
Speakers included Jeremy Wishart, senior programs manager for PERC; Garry Busboom, chief development engineer for Exmark Manufacturing; Brandon Fredricks, associate channel manager for Kohler Engines Group; and Chris Cafarella, sales and marketing manager for Boulden Brothers Propane.
Stoltzfus Farm Service was the 2013 GIE+EXPO winner of PERC's demo day event.
Equipment dealers had the opportunity to visit PERC's booth to sign up to win a dealer demo day.
Stoltzfus was selected from dozens of dealerships that entered the drawing. The family-owned dealership provides equipment sales and service to individuals in Chester and Delaware County, Pennsylvania; Cecil County, Maryland; and New Castle County, Delaware.